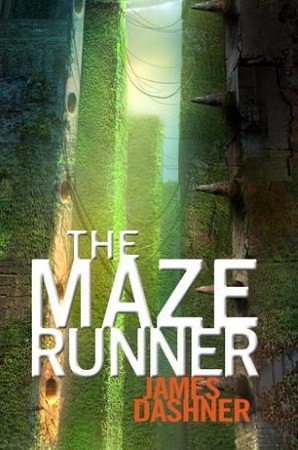 Title: The Maze Runner
Author: James Dashner
Genre: YA, dystopia, sci-fi
About The Book (From Goodreads):
If you ain't scared, you ain't human.
When Thomas wakes up in the lift, the only thing he can remember is his name. He's surrounded by strangers—boys whose memories are also gone.
Nice to meet ya, shank. Welcome to the Glade.
Outside the towering stone walls that surround the Glade is a limitless, ever-changing maze. It's the only way out—and no one's ever made it through alive.
Everything is going to change.
Then a girl arrives. The first girl ever. And the message she delivers is terrifying.
My Review:
What I loved about this book was the action, pacing, and mystery. What I disliked about this book was the fact you never get any of your questions answered. What I liked about the plot was it doesn't give you time to breathe (much less go to the bathroom). What I disliked about the plot was YOU NEVER GET ANY OF YOUR QUESTIONS ANSWERED. Yes, I am aware this is a series, and yes I will probably read on, but I really dislike reading unexplained action for long periods of time.
This book is a bit like playing a video game, it hooks you in and you can't stop: you want answers! When I finally did stop, I realized how little I cared for the characters; they all felt completely expendable to me, including the main character.
I will say the boys' behavior seems real enough and I thought the dialogue was well written. I know a lot of readers complain about the made up slang (shank, shuck-face, slim-it, etc.), but I think it works. How else is the author going to write a book about a tribe of boys in a worse than Lord of the Flies situation? Especially for YA? He would have to use the F-word in every other line. Instead we have: "You are the shuckies shuck-faced shuck in the world!"
Last of all, the ending was a huge let down. The explanation to solving the Maze is not the least bit interesting. I wanted something mind blowing. And as to the very end, all I got was a few, vague answers, and many more questions.
Overall: Three Stars. Excellent pacing and loads of action, characters could have been better developed (zero emotional attachment here), but my main complaint: I NEVER GOT ANY OF MY QUESTIONS ANSWERED… oh, did I mention that already? I'm sorry, but I really feel like a few things (at least) should have been explained … seriously … like just a few.
Rated V for Violent: High levels of brutality (think Hunger Games), bullying, and loads of gruesome deaths. Not a MG book!
A note on Book Two: I went ahead and started Book Two (The Scorch Trials) in hopes of getting some answers. Just the opposite happened: all action, no information or explanations, and zero character development. I stopped reading about 1/2 way through.