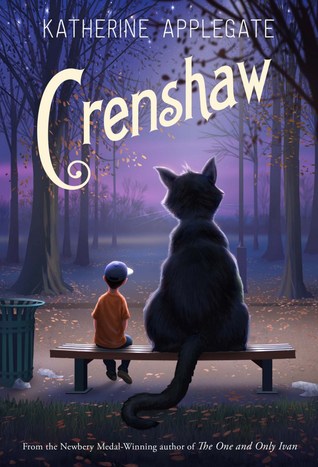 Title: Crenshaw
Author: Katherine Applegate
About the book (Taken from Goodreads):
Jackson and his family have fallen on hard times. There's no more money for rent. And not much for food, either. His parents, his little sister, and their dog may have to live in their minivan. Again.
Crenshaw is a cat. He's large, he's outspoken, and he's imaginary. He has come back into Jackson's life to help him. But is an imaginary friend enough to save this family from losing everything?
Beloved author Katherine Applegate proves in unexpected ways that friends matter, whether real or imaginary.
I appreciate Applegate tackling difficult social issues like poverty, homelessness, and a parent with MS. Especially on the MG level. This book shows how easy a normal, loving, hardworking family can "slip" into homelessness. To often, we ignorantly assume that poverty comes from laziness, substance abuse, or some character defect. This books shows the truth. It can happen to anyone. I thought the portrayal of Jackson and his family was well done. Although his parents are far from perfect, they are doing their best.
Unfortunately, I didn't find all the aspects of this novel as well done as the family situation. Crenshaw never really fleshes out. If he's real to Jackson, then he needs to be real to the reader as well. Instead he comes across as comical, if not fully absurd. A surfing cat who carries an umbrella can certainly be some kids imaginary friend, but there needs to be more to him then that. I wanted a clever imaginary friend, full of humor, and wit. At the very least intriguing.
Crenshaw is none of these things, and Applegate relies to heavily on creating funny scenes–– like Crenshaw in the bathtub––instead of creating a truly interesting and humorous character. I understand that perhaps his silliness is to balance out Jackson, a worrier, who is all facts and no-nonsense, but Crenshaw doesn't quite accomplish that either. Although Crenshaw has his wise moments, it's not enough, and he could all too easily be written out of the story with little to no plot conflict.
Overall: Three Stars. I love everything about this book except Crenshaw. Jackson's giant imaginary cat friend is set up to be the heart of the story, but instead turns out to be an underdeveloped secondary character with little to add. Jackson himself, is a most lovable and interesting character, the family dynamic is well done, as is his friendship with Marisol. I love the concept of a giant cat as an imaginary friend, but unfortunately, Crenshaw did not steal my heart.