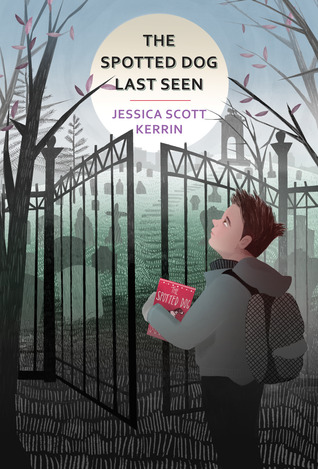 Title: The Spotted Dog Last Seen
Author: Jessica Scott Kerrin
Genre: Middle Grade Fiction
About The Book:
While tracking clues from a secret code penciled in the margins of mystery novels at a public library, Derek Knowles-Collier discovers a time capsule, an unpublished author and a gravestone that may finally put his haunting past to rest. At Queensview Elementary, grade-six students are required to complete a community service unit as part of their school curriculum, and Derek is assigned to repair duty at the local cemetery...
There's nothing creepy or supernatural here, this book is about connections, community, friendship, and overcoming a traumatic past. The friends Derek makes as he works at the cemetery are clearly not the friends he would choose, but each of them has something unique to offer as they unravel the clues found in a library mystery book. Each character feels, speaks, and acts in a very realistic, and unique way. They are not ridiculously quirky or unrealistically smart, they are perfectly average, but interesting characters (refreshing!)
Derek has reoccurring nightmares that connect to a past trauma– an event he is forced to shut out of his mind daily as it haunts him at every turn. This book is certainly different from other middle grade reads, it deals with deep issues in a way middle graders can understand and connect with, shows how events effect an entire community, and touches on how to deal with grief on a person level.
A few too many coincidences that tie up all too neatly in the end, is my only complaint.
Overall: 4 Stars. This book is much more than a mystery! Don't let my review bog you down, this story has a fair bit of humor and suspense. Death is certainly not its only theme!