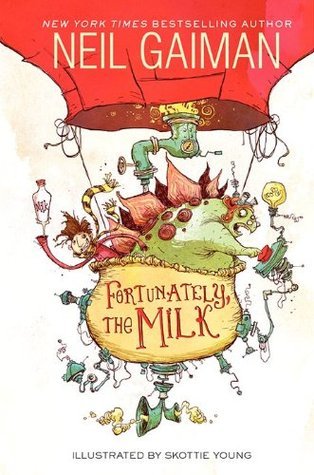 Title: Fortunately, the Milk
Author: Neil Gaiman
Genre: Middle Grade Fiction
About The Book:
"I bought the milk," said my father. "I walked out of the corner shop, and heard a noise like this: T h u m m t h u m m. I looked up and saw a huge silver disc hovering in the air above Marshall Road."
"Hullo," I said to myself. "That's not something you see every day. And then something odd happened."
Find out just how odd things get in this hilarious story of time travel and breakfast cereal, told by Newbery Medalist and bestselling author Neil Gaiman and illustrated by Skottie Young.
Unfortunately, I do not feel there was really enough here to make a book. If anyone other than Neil Gaiman had written this, I sincerely doubt it would have been published or managed to snag two such brilliant illustrators (Skottie Young did the US Version and Chris Riddle the UK). However, I guess if you are as famous as Neil Gaimen you might as well milk it.
Cutesy, rambling, and wacky this book is written to sound like an on-the-spot made-up story. It might be a fun before-bed-read, but there is nothing particularly brilliant going on here. At its best it is sarcastic and witty– at its worst it is lazy storytelling. Neil Gaiman tends to have me in raptures when it comes to creativity and world building, but drop me flat when it comes to plot. This book was no exception … except there was no rapture, all I got was Un-Fortunately, The Milk.
Overall: Three Stars. Highly creative and humorous, but patchy, random, and weak on plot. Might have made a better picture book. If it wasn't for the fantastic illustrations I would never have made it through.